Kaletra (Lopinavir/Ritonavir)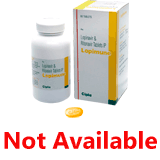 Kaletra is a combined antiviral drug. Its main components are lopinavir and ritonavir. Lopinavir is characterized as an inhibitor of the HIV-1 and HIV-2 protease of the human immunodeficiency virus (HIV). It ensures antiviral activity of generic Kaletra. Lopinavir helps to make a virus ineffective in the spread of infectio throughout the body.
Ritonavir inhibits CYP3A4 isoenzyme mediated metabolism of lopinavir in the liver. It contributes to an increase in lopinavir concentration in blood plasma. Ritonavir is also an HIV protease inhibitor.
Indications
Kaletra is prescribed as the treatment of HIV infection in adults and children from 3 years of age. This medicine is aplied as a part of combination therapy.
Contraindications
Common contraindications to Kaletra use are:
hypersensitivity to lopinavir, ritonavir or to auxiliary components;
severe liver failure;
children's age up to 3 years (children from 6 months to 3 years of age are prescribed a drug in the dosage form for oral administration);
Kaletra use 1 time/day in combination with carbamazepine, phenobarbital or phenytoin;
the use of lopinavir/ritonavir 1 time/day in pregnant women.
Take the drug with caution in the following cases:
viral hepatitis B and C;
cirrhosis of the liver;
mild and moderate liver failure;
increased activity of liver enzymes;
pancreatitis;
hemophilia A and B;
dyslipidemia (hypercholesterolemia, hypertriglyceridemia);
elderly patients over 65 years old;
patients with organic heart diseases, with a history of cardiac conduction system disorders, or patients taking drugs that prolong the PR interval (such as verapamil or atazanavir), or drugs that extend the QT interval (phenyramine, quinidine, erythromycin, clarithromycin).
Dosage and route of administration
Oral administration, regardless of food intake.
Adults
The recommended dose of Kaletra is:
4 tablets Kaletra 100/25 mg (400/100 mg) 2 times/day, regardless of food intake;
8 tablets of Kaletra 100/25 mg (400/100 mg) 1 time/day, regardless of food intake, for patients who have less than 3 mutations associated with the resistance development to lopinavir.
There is insufficient data for the use of lopinavir/ritonavir 1 time/day in adult patients with 3 or more mutations associated with the development of resistance to lopinavir.
Children
The use of Kaletra 1 time/day for children is contraindicated.
The dose of Kaletra for adults (400/100 mg 2 times/day) without the simultaneous use of efavirenz, nevirapine, nelfinavir or amprenavir can be used in children with a body weight of ≥35 kg or with a body surface area (PPT) of ≥1.4 m2.
In children with a PPT of less than 0.6 m2 or children under the age of 3 years, it is recommended to use Kaletra as a solution for oral administration.
Side effects
Immune system: hypersensitivity reactions, incl. urticaria and angioedema; a syndrome of restoration of immunity.
Digestive system: diarrhea, nausea; vomiting, abdominal pain (in the upper and lower sections), gastroenteritis, colitis, dyspepsia, pancreatitis, gastroesophageal reflux, hemorrhoids, flatulence, bloating, hepatitis, hepatomegaly, cholangitis, liver steatosis; constipation, stomatitis, ulcers of the oral mucosa, duodenitis, gastritis, gastrointestinal bleeding (including rectal bleeding), dry mouth, ulcers of the stomach and intestines, fecal incontinence.
Nervous system: often – headache, migraine, insomnia, peripheral neuropathy neuropathy, dizziness, anxiety, convulsions, tremors, cerebrovascular disorders, sleep disturbances, decreased libido.
Cardiovascular system: arterial hypertension; atherosclerosis, myocardial infarction, AV block, tricuspid valve insufficiency, deep vein thrombosis; increased PR interval.
The skin and subcutaneous fat: a rash (including maculopapular), dermatitis, eczema, seborrhea, increased sweating at night, itching; alopecia, capillary, vasculitis; lipodystrophy and redistribution of subcutaneous fat.
Musculoskeletal system: musculoskeletal pain (including arthralgia and back pain), myalgia, muscle weakness, muscle spasms; rhabdomyolysis, osteonecrosis.
Metabolic disorders and disorders of the endocrine system: hypercholesterolemia, hypertriglyceridemia, weight loss, decreased appetite, diabetes mellitus; weight gain, lactic acidosis, increased appetite, male hypogonadism; insulin resistance.
Kidneys and urinary tract: renal failure; hematuria, nephritis.
Reproductive system: erectile dysfunction, amenorrhea, menorrhagia.
Hemopoietic system: anemia, leukopenia, neutropenia, lymphadenopathy.
Sensory organs: vestibular dizziness, tinnitus, visual impairment.
Infections: upper respiratory tract infections; infections of the lower respiratory tract, infections of the skin and subcutaneous fat, including cellulitis, folliculitis, furunculosis.
General reactions: weakness, asthenia.
Interactions
It is recommendd to avoid the combinatons of Kaletra with:
the simultaneous use of drugs that clearance is significantly dependent on metabolism through the CYP3A isoenzyme. Such drugs include astemizole, blonanserin, terfenadine, midazolam (when taken orally), triazolam, cisapride, pimozide, salmeterol, sildenafil, tadalafil, vardenafil, avanafil, voriconazole, ergot alkaloids (eg, ergotamine and dihydroergotamine, ergometrine and methylergometrine), HMG-CoA reductase inhibitors (lovastatin, simvastatin, atorvastatin,) alfuzosin, fusidic acid (in the treatment of skin infections), amiodarone, quetiapine;simultaneous use with St. John's wort, boceprevir, simeprevir;simultaneous use with ketoconazole and itraconazole in high doses (more than 200 mg/day);
a standard Kaletra dose with rifampicin;
tipranavir with a low dose of ritonavir;
the use of Kaletra 1 time/day in combination with the drugs efavirenz, nevirapine, amprenavir or nelfinavir;
the use of this drug 1 time/day in children and adolescents under 18 years of age;
drugs for the treatment of erectile dysfunction, namely with sildenafil, tadalafil;
concomitant use with antiarrhythmic drugs such as bepridil, lidocainomy and quinidine;
digoxin;
lamotrigine, valproic acid;
bedaquiline;
trazodone.
Overdose
The clinical experience of acute overdose of lopinavir/ritonavir in humans is currently limited. There is no specific antidote. Therapy should include general supportive care, including monitoring vital signs and monitoring the patient's clinical condition. If necessary, unabsorbed drug is removed by gastric lavage and activated charcoal is prescribed.